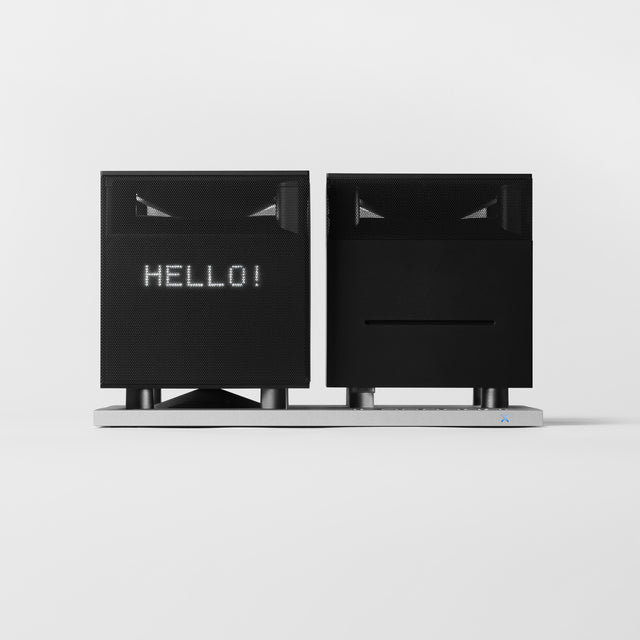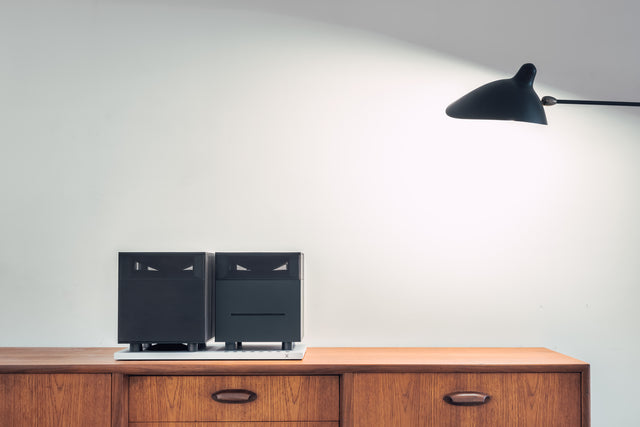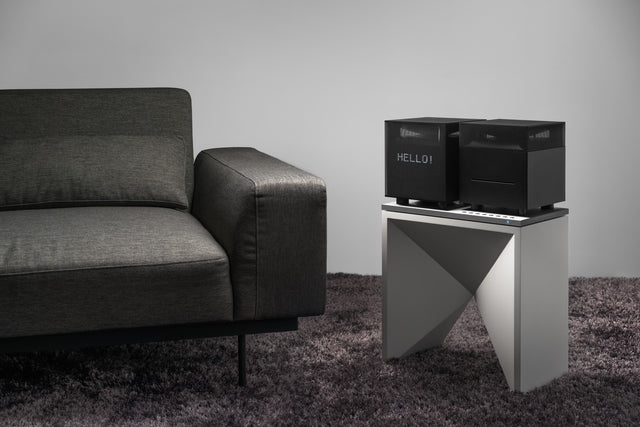 BRAND VALUE
Aerix, derived from the Latin word "aeris" or atmosphere, is built on a promise: to deliver an unparalleled sound experience. Our approach to Aerix development is based on three fundamental concepts: design, engineering and acoustics.
coustique.
AUDIO SOURCE
High-resolution Bluetooth aptX
We offer you the most advanced Bluetooth chip that delivers CD-quality music from your PC, laptop and smart devices.

The most advanced DTS Play-Fi module allows the Duet to play whatever you want. In addition to millions of Internet radio choices, the DTS Play-Fi module integrates Qobuz, Spotify, Deezer, Pandora, Tidal, Songza and many high-resolution music tracks, all at your fingertips.
After all these years, it's time to open your bookshelf again and rediscover your CD collection! See how Duet plays your CD with passion and emotion!
Simplistic, crystal clear
The dotted LED display on the front of Duet is easy to read. The industrial aluminum plate is equipped with an elegant, discreet light that doesn't interfere with the listening experience.
Highly selected, finest
Of course, the absolute sound quality has to come from its top-notch components. The 1.5-inch ring type tweeter-mid driver a circular horn diffusor along with a double magnetic rounded subwoofer. In addition, a Bézier curved horn and a conical base for precise bass reflection. All of which abbreviates our distinguished technical engineering and persistence, just for your best listening experience.
TECHNOLOGIES
Dynamic Air Drive (D.A.D)
The power of vertical discharge drivers compresses waves downwards towards the acoustic panel we've developed, producing a uniform, coherent sound throughout the room.
Virtual Intelli Sound (V.I.S)
Our advanced digital signal processing chips are optimized with V.I.S technology, the latest in human auditory psychoacoustics. It includes three integrated modes: Relax, Natural (Aerix mode), Hyper. Each mode is precisely designed to reproduce only high-quality sound.
Encompassing Sound Circle (E.S.C)
At the heart of every Duet is a 360° radiating acoustic horn. Bell's ideal architectural curve creates a halo effect around the Duet, bringing you sound of the highest quality.